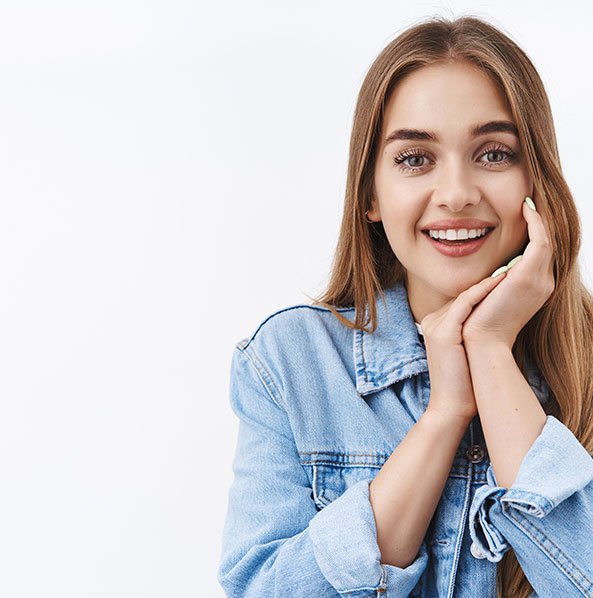 Dental Crowns and Bridges
In the world of cosmetic dentistry, dental crowns are among one of the most popular options for teeth restorations. They not only help restore teeth which are decayed or broken, they aid in restoring the aesthetics and health of your smile.
Or Call: +91 9864 123 123
Dental crowns are custom-made tooth restorations that are created to fit perfectly over teeth that have become damaged or weakened to protect them from further breakdown. They provide a long-term solution to damaged teeth by stopping the spread of bacteria or decay, along with protecting the rest of your mouth, teeth, and gums from damage. They are made to look and function just like a normal, healthy tooth would.
Indications : A dental crown is indicated
in the following situations :
A tooth which has been weakened by a very large cavity or decayed lesion, often will not have much healthy tooth structure left. As a result there may not be enough tooth structure to support a filling.
These cases are best treated with a crown in order to minimise the risk of the tooth breaking or cracking.
Some teeth may have cracks formed in them or get chipped and broken due to the presence of old fillings, wear and tear or even from grinding teeth together.
A crown would restore the broken tooth and protect the tooth by preventing the crack from spreading further.
Teeth which have been worn down severely from pressure or from acidity and acidic foods, need to be built back up to provide a proper bite as well as restore their appearance.
Teeth which have been Endodontically treated ie teeth which have had root canal treatments done, may require a crown to prevent it from breaking.
A dental bridge is used to replace one or more missing teeth. Teeth may be missing due to decay, fractures, injury or accidents, gum disease, or could even be missing congenitally.
The loss of teeth can affect the appearance of your smile, your ability to eat and chew, your speech and the support of your facial structures. If teeth are missing for a long period of time, the other teeth around may start to shift and thus affect the alignment of the remaining teeth.
To replace a missing tooth with an artificial one we may recommend a bridge.
Here the replacement tooth is suspended by crowns made on teeth on either side of the missing tooth. These crowns are firmly bonded to the teeth and the new tooth is suspended between them filling the gap.
So when would you need a crown or a bridge?
Our Smile Design Showcase
Why choose Dr Mistry's Advanced Dentistry
for your Crowns and Bridges?
How your crowns appear when complete is based in large part on the skill and artistry of your cosmetic dentist. The correct colour and shape of the crown is exceptionally important as it needs to perfectly blend with your natural teeth.
Dr Saiesha Mistry is in the top one percent of dental practitioners in the nation in her level of education and training. As a cosmetic dentist, she has an artist's eye to correctly match colour so your new tooth perfectly blends, looks, and feels natural and stable.
At Dr Mistry's Advanced Dentistry we use the highest quality materials, the latest technology, state of the art Dental Laboratories and the most qualified and talented Ceramists to make our crowns and bridges.
Crowns and Bridges can be made from many different materials. We select the material for a patient based on each case individually, as every patient's teeth are unique to them. We select our materials to best suit the appearance of your teeth and the strength of your bite. We pride ourselves that our crowns are not only durable and strong but perfectly match the shape and shade of your teeth.
Gift yourself a Virtual Consult with
Our Experts​